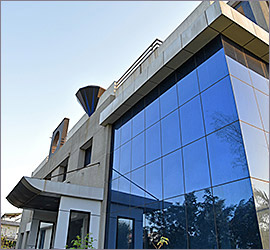 Established in the year 2005, with the motto to be the best in the API intermediates manufacturing, Ratnamani today embodies the vision of a top notch player in developing and commercializing intermediates.
The Company was started with a vision to be recognized as an aggressive company that combines its strength of team work manufacturing with definite advantages in terms of cost with a strong emphasis on Quality of the products.
The untiring efforts of the directors of Ratnamani develop processes for several products at relatively low cost, thus making it possible for several life saving drugs intermediates to be available at affordable prices, meeting all the Regulatory and Quality norms.
We are now focusing on giving new dimensions to the company in terms of exploring possibilities of further growth, exploring new horizons in the field of Pharmaceutical intermediates & Bio Chemicals development and evolving strategies to take the company to greater heights.
Today, Ratnamani is a trusted member for manufacturing of pharmaceutical intermediates in Ankleshwar Industrial Estate.
Research :

Inno

vation is the key strategy to grow beyond, It is a vision which we have, to grow further and it is a continous process. Our highly qualified personnel innovate with research and while the manufacturing and product development team integrate these new products in the manufacturing line up.
Latest automated system is in operation for mass production with best quality and competitive prices possible. This has reaped us huge rewards and we make sure that newer products are included, along with our visions for further expansion.

Environment :
Env

ironment is the key issue we look upon very stringently, since we are aware that we will be leaving a legacy for the future generations. Hence preservation of environment is one of the key priorities we adhere to. The company has a Effluent Treatment Policy, under which the Effluents are managed to make sure that they are safe to be disposed off. After all we look upon this practice as a means to leave a cleaner and greener environment.
.
---

Visit our manufacturing unit 360º Virtual Walkthrough Tour
---